To the Committee of the County Administration Board for Halland, Sweden
A petition concerning the conflict on the design of the great organ in St. Nikolai's Church, Halmstad, Sweden
The undersigned - who are all organ experts, church musicians, concert organists, organ professors, organ builders or in other respects engaged in the art of the organ - hereby appeal to the Committee of the County Administration Board to withdraw the demand by the Senior County Antiquary (ultimately Custodian of National Monuments) to reinstate the façade of the previous organ.

The stipulated rebuilding of the organ is completely unrealistic and cannot be done without seriously affecting the instrument, the church room, and the music life of the church - and at an indefensible high cost of around 4 million Swedish crowns (approximately 295 000 £).

The Tengbom Façade
has nothing whatsoever in common with the new organ, visually, acoustically or in design.
has mute pipes with completely different graduations (measurements) than the sounding pipes of the new organ, which would be forced into the old façade.
is a product of its time and an example of a decadent style, valid during the early war years (1940s) but unacceptable at any other time. To that extent it is (hopefully) unique, but only in a negative sense.
has no element of style in common with the church room, and neither with any organ building tradition, earlier or later. The reasoning that it is an indispensable part of an architectural "unit" is a later argument, that fails through its own absurdity.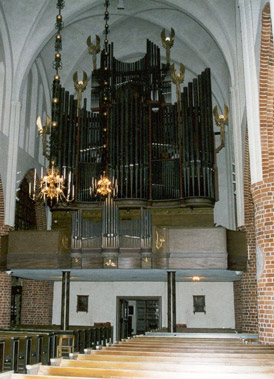 The front of the new organ is an integrated part of the function of the instrument and cannot be easily exchanged. The old façade, on the other hand, is what is really meant by a "façade"-a screen without any function that has been erected in front of the previous organ.

With this background in mind, we the undersigned appeal to the Committee of the County Administration Board

to withdraw the demand by the Senior County Antiquary to reinstate the old façade, and to leave the new organ in peace,
to allow a delegation of ours, the undersigned, an opportunity as soon as possible to personally meet with the Committee in order to present our petition.
Respectfully
Comments (4)
En kommentar till från formuläret.
---